Pollinator Paradise Pollination Ecology at UI The Solitary Bee Web
New Mexico Native Bee Pollinator Project
Bee Nests and Accessories Bee Photo Gallery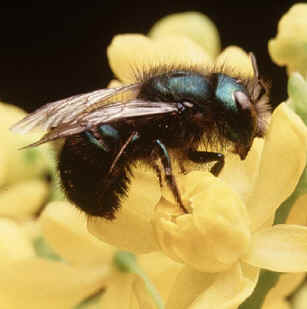 Blueberry Bee, Osmia ribifloris on berberry. Photo courtesy Dr. Suzanne Batra, USDA ARS
The New Mexico Native Bee Pollinator Project
Sponsored by Pollinator Paradise

Read about the 2008 New Mexico Initiative for Bee Habitat Corridors/bigger>/bigger>/bigger>

Table of Contents
Introduction
Are Other Bees Available?
Why Use Native Bees for Crop Pollination?
What's happened so far?
How Can I Help?
Contact Us

Blue orchard bees, Osmia lignaria, are found throughout the fruit growing areas of the upper Rio Grande in Northern New Mexico. Read the preliminary results of this study.

Most fruit trees and many vegetables and seeds such as apple, plum, squash and sunflowers require or benefit from pollination by bees. Traditionally the introduced European honey bee has been used to pollinate these crops. However, parasitic mites have greatly reduced wild honey bee colonies, and make it more difficult to manage commercial honey bees colonies. In addition, the presence of aggressive Africanized honey bees in New Mexico make the use of honey bees riskier, especially near populated areas.

Are Other Bees Available?

Over 500 species of bees have been reported from New Mexico. Many of these bees pollinate native wildflowers, shrubs and trees. Some of them also pollinate crops such as fruit trees. We know how to manage only a few species. The Blue Orchard Bee, Osmia lignaria has been used successfully on a limited scale for pollination of almonds, apples, cherries, and prunes. It is available commercially from a small number of vendors, most in the Northwest and California. A related species, O. ribifloris, shows promise as a pollinator of blueberries. A dozen other species in the genus Osmia are also found in New Mexico, forage in the spring, and may visit fruit trees. Most Osmia species nest in tunnels in wood, and can be enticed to nest in straws and artificial tunnels (see Figure). They are docile, relatively easy to manage and may be suitable supplementary pollinators for fruit.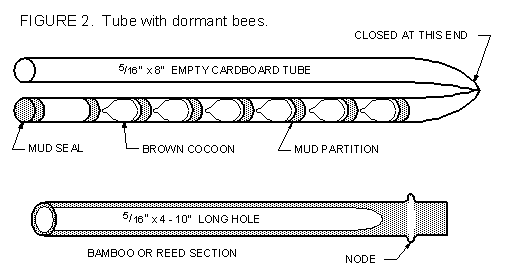 Dawing by Mike Kridle

Another 50 - 100 bee species may also forage in the spring and may pollinate fruit trees. Most are ground nesting. They include species of Andrena and Colletes. We know little about their soil preferences, so we don't know how to manage them in large numbers. However, measures can be taken to preserve their populations when present.
The NM Pollinator Project is identifying potentially important crop pollinating native bees in New Mexico, and works to preserve, increase, and where possible, to manage native bee populations.
Why Use Native Bees for Crop Pollination?
| | |
| --- | --- |
| | They are docile. |
| | They are efficient pollinators so few bees are needed (~250 females / acre). |
| | They may be more active in poor weather. |
| | They are not active after bloom so pesticides have a limited effect. |
| | Pollination by native bees may compliment honey bee activity. |
| | They are one of the state's natural resources and should be conserved. |
What's happened so far?
2001 was the first year of the NM Native Pollinator Project. A number of grower - collaborators who manage fruit orchards in northeastern New Mexico participated. Orchards were visited several times during bloom to collect native bees foraging from blooming trees. Small "trapnests" were placed in the orchard hanging from tree branches, on fence posts, or other appropriate structures. Trapnests were collected in September and most are spending the winter in an unheated building in Taos Canyon.
Read about the participants and properties sampled in spring, 2001.
Read the preliminary results from 2001.
If you live in or visit New Mexico, you can help support native bees by purchasing locally grown fruit. Fruit stands and farmer's markets in Albuquerque, Santa Fe, Taos, Los Alamos, Española, Las Vegas, Peña Blanca, Velarde, Rinconada, Dixon, , Chimayo, Bosque Farms, and other areas are likely to have local fruit for sale in late summer and fall. Ask about pollinators, and suggest your supplier find out about blue orchard bees and other native bees.
Read about the 2008 New Mexico Initiative for Bee Habitat Corridors/bigger>/bigger>/bigger>
Comments? Questions? e-mail us.
For more information:
Karen Strickler,
Pollination Ecologist
31140 Circle Dr.
Parma ID 83660

Top of Page Pollination Ecology at UI The Solitary Bee Web
New Mexico Native Bee Pollinator Project
Bee Nests and Accessories Bee Photo Gallery

Copyright © 2001, Karen Strickler. All rights reserved.
Revised July 4, 2001.
Revised Sept. 3, 2007